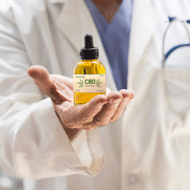 Small pilot study suggests it can reduce epileptic seizures  
The British Veterinary Association has said more research is needed on the potential benefits and risks of cannabidiol (CBD) before proper regulation is brought in.
This follows a new pilot study by Colorado State University, which found that CBD oil could reduce the frequency of seizures in dogs with epilepsy, when given alongside conventional treatment.
The small study of 16 dogs assessed the short-term effect of CBD on seizure frequency. Nine dogs were treated with CBD for 12 weeks, while seven received a placebo. All dogs continued to receive standard anticonvulsant drugs, including phenobarbital and potassium bromide.
Of the dogs who received CBD, 89 per cent saw a reduction in the number of seizures they experienced. Researchers said there was a significant correlation between the degree of seizure reduction and the amount of CBD concentration in the dog's blood. The findings have been published in the Journal of the American Veterinary Medical Association.
Responding to the study, BVA said there is a lack of robust evidence to demonstrate the safety and efficacy of CBD in pets.
Junior vice president Daniella Dos Santos said: "The use of cannabidiol (CBD) to treat pets is a live issue in the veterinary profession. While research is ongoing to look into its efficacy and risks, there is currently a lack of sufficient robust evidence to demonstrate health benefits and safety of CBD use in pets.

"The veterinary medicines regulator has stated that any products containing CBD must be regulated as a medicine, supported by scientific evidence and rigorously tested. At present no CBD-based products have been granted veterinary marketing authorisation in the UK."
Pet owners who are concerned about their pet's health should speak to their local vet for professional advice on safe and effective treatments, she added.
The Colorado team are now working on further research to determine whether a higher dosage could reduce seizures by more than 50 per cent. The study, which launched in January last year, aims to enrol 60 dogs.