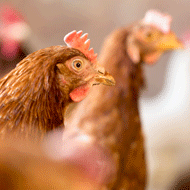 Fast-food chain signs Better Chicken Commitment
KFC has become the first fast-food chain in the UK to sign up to the Better Chicken Commitment, which lays out ambitious goals for improving animal welfare.
The Better Chicken Commitment requires suppliers to meet a set of six requirements for all chicken in the supply chain by 2026. It was created by a group of 28 international welfare organisations, including the RSPCA, Four Paws and World Animal Protection.
Requirements include providing more space; bringing in more natural features such as natural light, perches and pecking objects; and moving towards slower-growing breeds.
So far, Waitrose, Marks & Spencer, Nestlé and Knorr have also signed the commitment.
Paula MacKenzie, CEO of KFC UK & Ireland said: "Signing up to the European Chicken Commitment isn't just a box-ticking exercise for us, we're doing this because we truly believe it's the right thing to do. Chicken is our business and we have a responsibility as 'the' chicken brand, to make sure that we are pushing improvement to chicken welfare standards across our supply chain."
Commenting on the move, Claire Williams, campaign manager for the Better Chicken Commitment said: "We are now really pleased to have one of the UK's largest fast-food chains, two of the country's leading supermarkets and a number of other major brands on board. This is a great step for meat chickens and consumers.
"We are hopeful that this move will give their competitors the wake-up call they need to realise that animal welfare cannot go on being ignored."