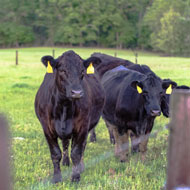 Farming minister George Eustice has announced a £5.7million funding package to help farmers tackle Bovine Viral Diarrhoea (BVD).
The funding will be available in England for three years through the Rural Development Programme and farmers will be able to apply for one-to-one farm advisory visits by a veterinary practitioner.
The project will recruit local vets who will then work with keepers of breeding cattle to tackle BVD on their farms.