VDS claims consultant inaugurated at congress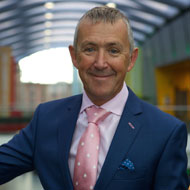 During his term as president
Dr Pycock hopes to celebrate
the positives of working as an
equine veterinary professional.

Jonathan Pycock of the Veterinary Defence Society (VDS) has been appointed as president of the British Equine Veterinary Association (BEVA).
Equine claims consultant Dr Pycock will take up his role at the end of BEVA Congress (13-16 September), taking over from Vicki Nicholls. Renate Weller will become president elect.
A graduate of the Royal Veterinary College (RVC), Dr Pycock has been heavily involved in the BEVA's clinical practice and ethics and welfare committees since joining the council for the second time in 2014.
During his term as president he hopes to celebrate the positives of working as an equine veterinary professional. He hopes to help members to achieve work/life balance, encouraging active participation in the association, as well as developing relationships between the BEVA and other equine organisations worldwide. He also wants to highlight the shortfall in research on equine reproduction and promote interest in this area.
He commented: "I feel honoured and privileged to have been given the opportunity to be BEVA president. It is a responsibility I do not take lightly. I am well up for doing my best and am 100 per cent ready for the challenging and exciting year ahead."
Dr Pycock has a PhD in mare gynaecology. After working for private equine practices in the UK and the Southern Hemisphere, he took a job as assistant professor at the University of Utrecht Veterinary School in the Netherlands.
He set up his own equine practice in 1996 before selling the business to colleagues when he took on his current role at the VDS. He also lectures globally on equine reproduction and avoiding litigation in equine practices.