Source of the outbreak currently unknown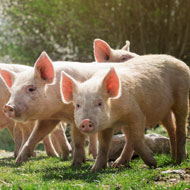 An outbreak of African swine fever has been reported in China for the first time, authorities say.
Over 8,000 pigs have been killed and disposed of at the site of the outbreak in Shenyang, Liaoning, and a 3km epidemic zone around it.
A strict blockade, disinfection and movement controls are currently in place and epidemiological investigations were carried out in the whole Liaoning province. No new cases were found, out of 1.88 million live pigs screened.
The outbreak was reported to the World Organisation for Animal Health (OIE), by Dr Zhang Zhongqui, director general at China's Animal Disease Control Centre. The source of the outbreak is not yet known.
Responding to the news, the UK's National Pig Association said the outbreak is 'significant', as China is home to more than half the global population of pigs.
Cases of African swine fever continue to be reported in wild boar and domestic pigs in Eastern Europe and western Eurasia.
The risk to the UK's pig sector is considered to be 'low', according to the APHA's latest assessment in June. However, a new assessment is expected in light of the latest outbreak in China, which will determine whether the risk level is raised.
Pig keepers and the public are urged to adhere to the swill feeding ban by not giving catering waste, kitchen scraps or pork products to pigs. Keepers should also ensure that visitors to their premises have not had recent contact with the affected regions and anyone returning from these areas should avoid contact with domestic pigs or areas with feral pigs or wild boar.
Suspect cases of ASF must be reported promptly.