Pet ownership linked to decreased need for medications in humans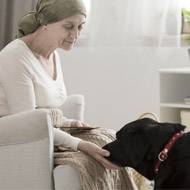 Results of European study recognised by healthcare professionals   
A survey by Boehringer Ingelheim and independent market research company, Ipsos, has revealed human health benefits in owning a pet.
Children with health issues and those with depressive disorders, post-traumatic stress disorder or cardiac health complaints are said to receive the most benefit.
Vets were concluded to be the preferred point of contact for owners seeking information on the human-animal bond.
3,000 pet owners were included in the survey across five European countries (France, the UK, Germany, Italy and Spain). Those surveyed were split into three groups: healthy pet owners, pet owners with health issues and pet owners with children experiencing health concerns. 300 cat owners and 300 dog owners were surveyed from each country.
Main results of those surveyed include:
Pet ownership led to a decreased need for relaxant, sedative and depressant medication
91 per cent of cat owners and 96 per cent of dog owners state that their pets have a positive impact on their daily lives
66 per cent consider their pets family members
55 per cent state that their pet improves relaxation and overall health
43 per cent declare an increase in physical exercise
pet owners with health conditions share a greater emotional bond with their pet than that of healthy pet owners
pet owners with children experiencing health conditions were most aware of the human-animal bond
70 per cent favour talking to their vet about the human-animal bond.